"A SHARP PENCIL IS THE SALVATION OF THE WORLD." Artisanal Pencil Sharpening is celebrating two years in business! This 12" x 18"  print is a signed, limited edition of 100. Produced by Mike Houston of Cannonball Press. Order below!
HAPPY SPRING! I AM TAKING PENCIL ORDERS AGAIN. SEE BOTTOM OF PAGE.

***


REACQUAINT YOURSELF WITH THE PLEASURES OF A HAND-SHARPENED PENCIL. In New York's Hudson River Valley, craftsman David Rees still practices the age-old art of manual pencil sharpening. His artisanal service is perfect for artists, writers, and standardized test takers. Shipped with their shavings and a "certificate of sharpening," these extra-sharp pencils make wonderful gifts.

Traditionally people mail in their pencils to be sharpened; however David now offers a new service: He will provide the pencil.


media/sales inquiries:
contact@artisanalpencilsharpening.com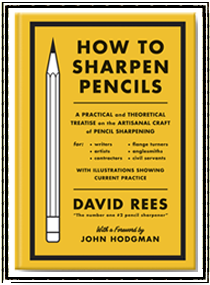 David Rees shares his secrets in his NEW BOOK! HOW TO SHARPEN PENCILS is "the standard to which all future pencil-sharpening textbooks must now aspire." (New Yorker) You can buy it from Amazon, Barnes & Noble, Powells, iTunes, or your local bookseller.